Perks Ranch Fall Friday Celebration Sale
Fri Sep. 14, 2012 2:00 PM Central in Rockford, IL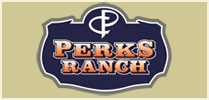 Perks Ranch Fall Friday Celebration Sale
Perks Ranch and guests are offering more than 70 Herefords as part of the Fall Friday Celebration. They will be selling split pairs, breds, donors, elite show heifers and steers, along with herd bulls and embryos. Visit perksranch.com for weekly sale features.
Click here to view auction on ClickToBid
Click here to view our video catalog
Please call Superior Productions at 800.431.4452 and register for your Buyer Number today.